G'day mates! How ya going?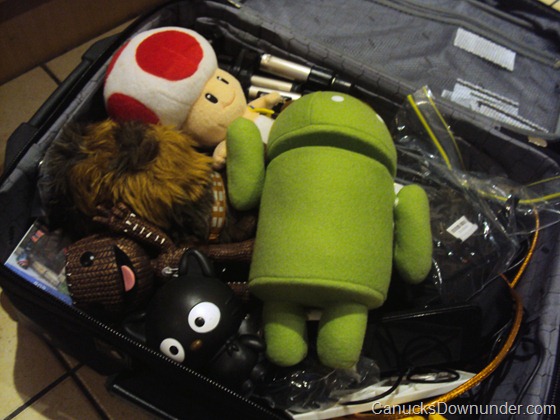 The time has finally come to pack up our lives here in Aussieland and return to the wind and cold. Surely you can tell by the photo above that we've got our priorities right when packing up our luggage – a family of stuffies and geek tech! But then again, a year is plenty of time to accumulate loads and loads of stuff which we have been getting rid of, selling off and giving away!
But that's not enough, I checked out our free baggage allowance and let's just say – we're totes gonna be paying up the wahoo! Virgin Australia is not very generous with their checked baggage limits AND their excess baggage charges! Aaaargh!
OK folks, I still have much to do, including crafting my very geeky costume for this weekend's conference at Couran Cove! Yeah, what a lovely place for a send-off after weeks of last-minutes this and that, finishing up projects and gathering of souvenirs for family and friends.
When next we post, we shall be in a Canadian winter wonderland. Until then, sprinkle hearts!
No comments yet!